Aadhar Based Centralized Donor Identification & Registration Platform.
Every day, thousands of people donate their blood all over the country. Nearly more than 90% of these donations were carried out in camps set up by various organizations in different areas.
Donations at camp site pose challenges like Donor Authentication and Identification, Donor Filtration based on past eligibility records – Making sure that the ineligible donors are filtered prior to donation, Effective donor screening – Making sure that the donors are screened appropriately prior to donation.
Very often we see reactive donors or ineligible donors redonate at different blood drives. All the donated blood goes through the testing phase and safe blood is separated. But sometimes unsafe blood also can penetrate this test and reach the patients infecting them. Though this problem may go unnoticed but the consequences are fatal. Also the ineligible donors (who are temporarily deferred due to the less time lag between their earlier donations or because cold flue or other illness symptoms) lead to low quality and reactive blood components.
"NACO reported that 2234 patients got infected with HIV cause of Bad blood transfusion in last 12 months. In spite of the latest testing methodologies leading to lesser window period of these fatal diseases, the problems are still increasing. Donor identification is one of the most important task which helps eliminate ineligible donors i.e., reactive donors as well as time based ineligible donors.
We wanted to address this concern and eliminate it with effective donor screening through 'D-health app' – India's first Aadhar based donor identification application
The Key features of this application are:
• Aadhaar (IRIS) Based Donor Authentication
• Centralized Donor Eligibility Check
• Donor Registration At a Click With Aadhaar e-KYC

Aadhaar (IRIS) Based Donor Authentication
Aadhaar (IRIS) Based Donor Authentication & Registration at a Click with Aadhaar e-KYC– will help in authenticating the donor based on details by Aadhaar e-KYC. User just needs the Aadhaar no. and scan iris using Samsung Aadhaar enabled IRIS tab and application will authenticate the donor from Govt. Aadhaar data server. If authenticated, the application will fetch the donor e-KYC records from the Aadhaar server and showcase it on the screen. Thus saving lot of time and also eliminating the errors cause of incorrect information or misinterpretation of information.
Once donor data authenticated Centralized Donor Eligibility Check is done.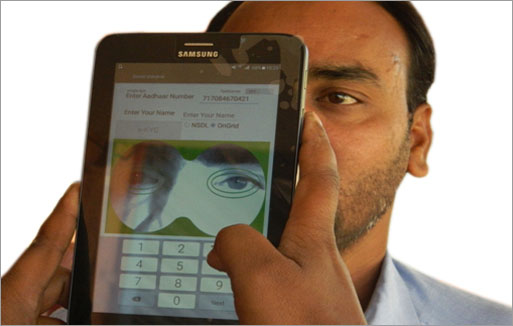 ---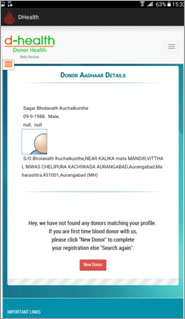 Centralized Donor Eligibility Check
With the donor personal information details app check it with existing donor repository for the eligibility of the donor for blood donation. The eligibility is checked on 2 parameters 1) Time based –Time since last donation. If less than 90, it will validate stating ineligible, 2) Past test record based – If the donor had been found reactive in the past, the application will validate the same stating ineligible cause of past test records.
Centralized donor eligibility check is being done through the Application based on Real time and past donor repository, Once eligibility check is done, donor self check - in will happen.
Once donor data authenticated Centralized Donor Eligibility Check is done.
---
Donor Self Check-in
A multi-lingual (English & Hindi) Quiz view & List view questionnaire is there to ensure that the donor himself answers the questionnaire for screening purpose. This helps in creating donor awareness, making donor curious about different questions & its relevance.
Once donor data authenticated Centralized Donor Eligibility Check is done.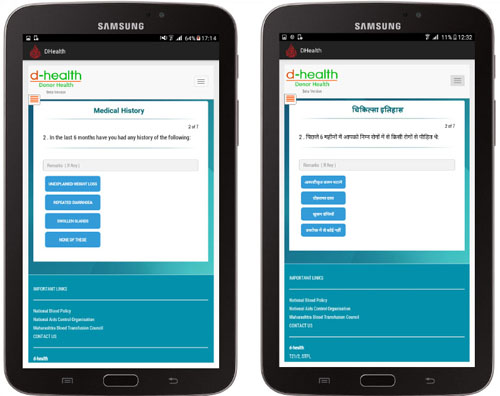 Strides is into blood banking software solutions since last 6 years and have continuously worked with an objective to enable Safe, High quality and high availability of blood components.
While working with various blood banks we have developed a solution which helps address these challenges with the latest technological advancement as well as align with the actual working on the ground. The outcome has been 'D-health app' – India's first Aadhaar based donor identification application